A masterplan for one of the UK's largest regeneration initiatives. The project will transform the currently industrial land into a thriving town centre nested in the Upper Lea Valley landscape.
Industrial Heritage
Meridian Water is a significant opportunity area located in the London Borough of Enfield. The project will deliver up to 10,000 homes and 6,700 jobs and a new town centre anchored by the existing IKEA and Tesco stores. Substantial evening economy offer, and a range of community and cultural facilities will complement the retail component to ensure long-term sustainability of this new piece of the city. Maccreanor Lavington were the lead consultants for the masterplan on behalf of Barratt and SEGRO who acted as development partners of this council-led initiative.
The site has a rich industrial past as part of the once strategic manufacturing corridor of the Upper Lea Valley. Its legacy is still tangible today in the form of the few remaining buildings and the working landscape of high-voltage electricity pylons and culverted waterways. Our vision sought to retain some of this character while rewilding the landscape and transforming the employment offer of the area.
At the heart of the masterplan lies an aspiration to create a distinctive piece of London, taking its 'DNA' from the riparian setting, an industrious past and the commercial present. Our masterplan enhances and exploits the existing green and blue infrastructure, creating an interweaving public realm of civic squares, waterside parks and café-lined towpaths, complemented with a boat club and a lakeside marina. This landscape strategy forms a spine of the masterplan that links the employment areas along the North Circular with the residential neighbourhoods along the valley edge and the town centre formed around the new train station and the reconfigured Tesco and IKEA stores. Social infrastructure has been used to reinforce neighbourhood centres, with school and community sports facilities co-located to promote active education and maximise opportunities for out-of-hours use of school sites.
With a delivery programme of 15 years, the vision is underpinned by a strong meanwhile use strategy re-shaping the identity of Meridian Water from the outset and developing clear benefits of the development for the existing community and for the new residents of the early phases. The strategy includes a range of temporary cultural and commercial uses and event frameworks to start transforming Meridian Water into a visitor destination. The phasing strategy also provides clear tools to gradually reduce the area's reliance on the private car and to maximise the environmental benefits of the new development of this scale.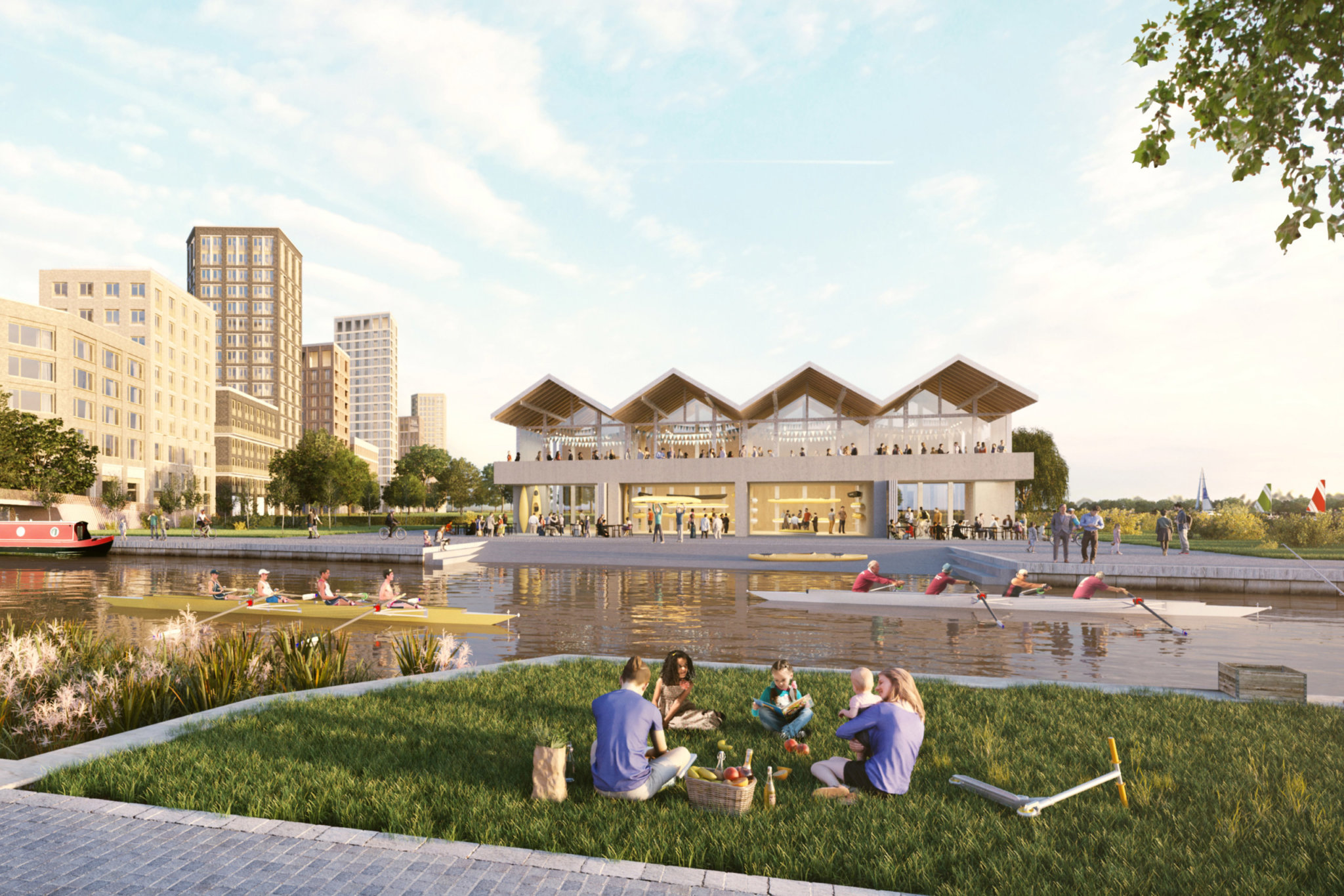 Client: Barratt Homes and SEGRO
Location: London Borough of Enfield
Size: 10,000 homes and 6,700 jobs